This is one of the first "good" Elizabethan outfits I ever made (as in, I'm still wearing it to this day). This is a photo from a CostumeCon I competed in during 1997 (it wasn't a nice experience; if I ever go to one of those again, it won't be the local one). The fabric is a silk/linen blend I received in 1993 in return for making outfits for friends who were the Baron and Baroness of Lochmere at the time. I didn't make the outfit until 1995, after I lost a significant amount of weight.
For the 1997 competition, I made a stab at period makeup (my cheeks are a little overdone, and the lips are too red), and I have all the correct underpinnings, including a roll. I think it looks rather good, though I'd still want to do a number of things to the bodies to fix some wrinkling problems.
I'm wearing a velvet petticoat under the silk, and slightly taller shoes than in the hall of shame picture, so the petticoats hang better. I'm wearing black gloves, which I think I'd switch out for white ones if I were to dress up exactly like this again. My hat is made of a non-period material, but correct in shape. I have my first embroidered coif (at that time, my only embroidered coif), and my machine embroidered shift.
The makeup is actually hysterical - after a while it dries out a little, and starts to crack. I had to keep a straight expressionless face the whole time to avoid looking like Norma Desmond in "Sunset Boulevard".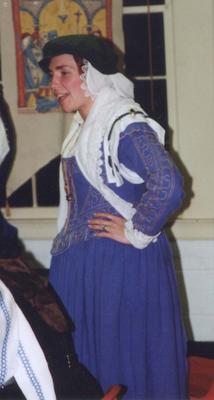 picture provided by J. Thies
This is me in 1998 - at the event I got my White Scarf (that's the white drapey thing on my shoulder in many of these pictures; it's a rapier award). This outfit was originally made in 1996, and couched (surface embroidered) with yellow sometime in 1998. I still have this outfit - it's one of the first outfits I embroidered with an actual design, as opposed to just sewing beads all over it. It's linen, and has the narrow skirt typical of the 1570s.
The coif has a ridiculously large lace trim - I'm a bit more subtle with the lace these days (unless I can document it), and the wool flat cap is more suited to a man than a woman, but this was before I perfected my coif-tying-technique-that-will-keep-it-on-even-in-a-hurricane theory, so I had to hold the coif on my head with something.
...come to think of it, this coif may have been the catalyst for that avenue of research, as I must have muttered to myself a million times "how did they get these to stay on?!".
Below, a close-up of the couching on the bodice - the design continues around to the center back lacing.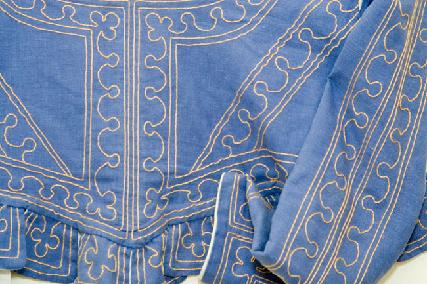 close-up of the couching on the bodice
This is me in April of 2006, looking the picture of Elizabethan sexy. Check out those stockings!
Actually, it was rather hot under my tent. No, really.
This outfit is blue and white linen weave, and was originally made in 1996 or 1997. With some adjustments for sizing (I originally made it too big), it's still clearly a regular part of my wardrobe. Here, I'm wearing it with a straw hat (my favourite one), my first coif, a completely incorrect but comfortable shift (low shifts are correct, but only with a partlet, and this one has elastic *shame*), a wool petticoat, a linen petticoat, a linen hand-hemmed apron, knitted stocks, and period reproduction shoes with pink grosgrain ribbon ties.
The hat is trimmed with pheasant and cockerel feathers, and has a beautiful hand made yellow rosette on the back where you can't see it. The little sprig on the band is rosemary, for my apprentice Madeleine, who died in April 2005. The Elizabethans were very into tokens and symbols, and rosemary symbolizes remembrance.
This is my "comfortable" outft - I was running my shop (ye olde goodes for ye discerning clientele), and didn't want to be too hot or too tightly laced.
Me as my alter ego Ian in 1998? 1999? - it was quite a while ago) - the ensign of Gardiner's company. I can't do the flag stuff any more, alas, but it was fun twirling the darn thing around while it lasted.

The cassock is linen, but really should be wool. It is later in period than the rest of the outfit, and has been since swapped out for a wool cassock with sleeves (in the Dutch cloak style seen on bandesmen at Sir Philip Sidney's funeral). Wool is the default fabric for Elizabethan clothing, but summer on the east coast of the US is remarkably unlike summer in England, and it took me a while to get used to wearing wool in 90+ degree heat. These days, I'm used to it, and it's actually more comfortable than the artificial fibres in my modern clothes, since wool is a natural insulator, but back when this pic was taken, I wasn't as up on all my bits and pieces as I am now.

The doublet is home-dyed linen (that used to be a hideous magenta pink), lined in linen. I experimented with flattening my overly large boobs and padding my waist to make myself look more male, but ended up looking enormously fat, so I chickened out, and these days, I just wear a corset underneath (these days I also don't dress like a man as much, but there's a picture out there somewhere of me dressed as Will Kemp on his "Nine Dayes Wonder", and I'm sporting quite the ginger moustache and goatee) (and Morris bells).

The breeches are Dutch slops, made in velvet, and I think the first pair of trousers I made after I lost weight (I used to weigh close to 200 pounds). They are correct as far as they go, since breeches are essentially a very simple trouser, but the more fashionable "Ian" has since updated "his" look to include a fine pair of canions and slops. "He's" thought about a padded pair, but is rather self-conscious about the size of "his" butt. Perhaps soon.



The doublet today, front and back (those side seams are really slimming!) - with better buttons (hand made), and lots of lovely trim. I followed the Elizabethan method of covering all the seams with trim - in this case, a narrow black satin ribbon. Since men's and women's doublets were substantially the same (Philip Stubbes gets very vitriolic on the subject of women dressing like men), this doublet can be worn with trousers or a skirt, depending on my mood.

...Women have it so much better than men; when we cross-dress, no-one raises an eyebrow.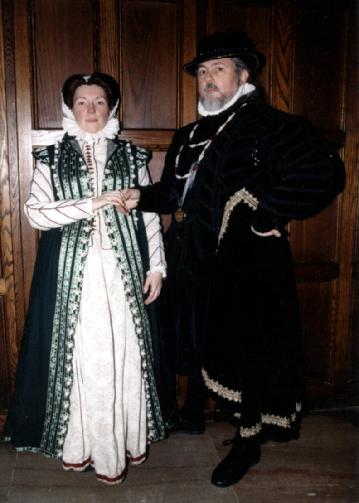 copyright V. Dye, 2002
This is my husband Robert and me in 2000 (I think), posing at the Washington Cathedral in Washington DC. Robert is wearing a black velvet cloak he redacted and made himself from the Janet Arnold Patterns of Fashion.
I'm wearing a coat from the same book, made of green wool, with green satin trim couched in white thread. The coat now has sleeves, and the final button count was 126 hand made buttons. The outfit underneath is the matching doublet and petticoat made of silk/linen brocade that coordinates with the outfit at the top of the page.
This coat is based on two gowns in the Janet Arnold Patterns of Fashion 1550-1620 book; the body and embroidery/trim design are from one, the sleeves are from another. The final time spent on this project was roughly 300 hours, was started in 1998, and finally finished when I completed the sleeves in 2003.
It is green wool, will soon be lined in yellow silk (when I made it, I had no job, so was forced to use a lower grade linen cotton blend for the lining - this will be covered and become an interlining, and the yellow silk will be hand-applied over it), and now has sleeves. It is couched in white perle cotton thread (again, for cost) over green satin ribbon, and is decorated with 126 hand-wrapped wooden buttons, most of which are entirely decorative.
For the trim, I followed the general layout of the straight ribbon patterns and the body of the original, but I created epaulets instead of padded short sleeves, and took the shaped long sleeves from another coat of the same era and decorated them to match the body of the coat.
The sleeves can actually be worn, but they are meant to hang down at the back. The odd shape is from the original sleeve - it was so appealing, I wanted to reproduce it. There are buttons down the entire sleeve, but no loops to close it - the underside is undecorated, as it is designed to hang so that only the front really shows.
All the trim is hand-applied, from the satin ribbon base up. This took a while - the buttons took roughly 15 minutes apiece, and the steady layering of the ribbon then the couched thread, then the hand-braided cord for the frogs - and there was a gap of about 2 years where the sleeves stayed unfinished because I ran out of ribbon and kept forgetting to get more (I had to special order the quantities I needed). I used an artist's white conte pencil to indicate where I wanted the ribbon to go, then when the ribbon was all applied, I used the same pencil to draw out the design for couching.
This was the first couching project where I learned to make the anchoring stitches really small.
For more images of the coat, click on the thumbnails below.
Text and images copyright L. Mellin, 2000-2008, except where noted. All rights reserved.
Last updated 8/28/08